A brief biography of Yoshimiki,
Living in London, Yoshimiki is an artist that has recently
used raw materials including newspapers and books.
Here are some of her pieces of artwork
(Unfortunately I couldn't find the name of this piece...)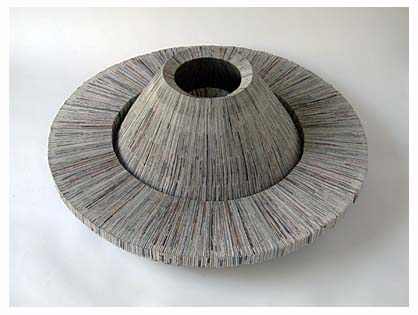 This piece is extremely intricate because
it is actually made from folded up newspapers glued on layer after layer.
This makes it sturdier.
I think the simplicity makes this piece much more effective.
You then zoom into the artwork and find the hundreds of pieces of newspapers squeezed together.
Only then can you really consider the amount of time it must have taken to make.
( Also no name unfortunately.)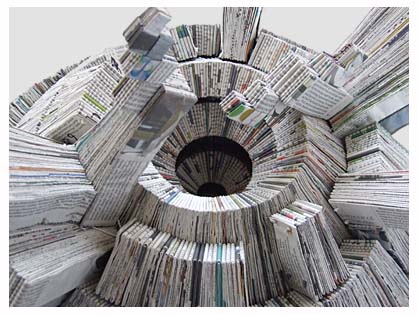 This piece is quite similar to the last one except there are much more chunkier pieces-
more ragged and sharper sticking upwards and outwards.
This is again another great piece of artwork that I extremely like.
This is probably because of the monochromatic colour of the newspaper but then if you focus you can see the odd colour of red or blue which brings the piece alive. It brings the piece alive by spritz of colours engaging the viewer's eyes and making the piece much more aesthetically pleasing.
The main shape of the sculpture is simple yet the main shape is made by complicated newspapers.
That was my first Eco-artist......
2-3 artists to go!